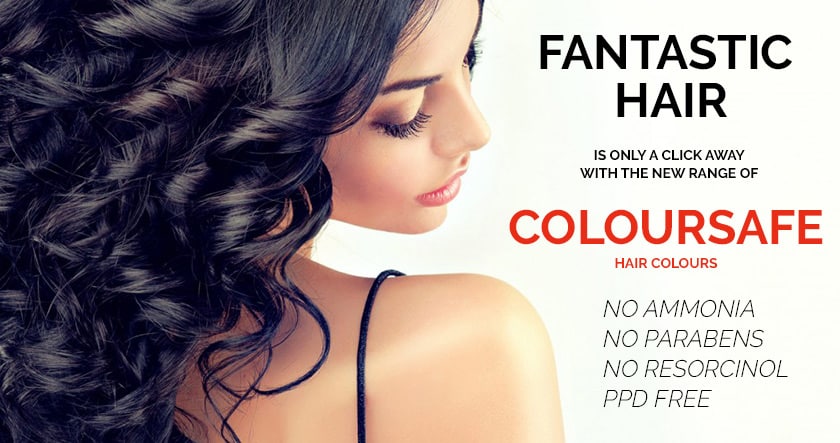 NATUR VITAL ColourSafe is an exciting new PPD-free permanent home hair colourant that banishes grey hairs in just 20 minutes, along with lessening the risks of allergic reactions and skin irritations.
Offering you a less aggressive solution to colouring, ColourSafe provides brilliantly glossy and vibrant shades that revive colour and provide long lasting results. The range also contains a blend of vitamin E, plant keratin and organically certified sunflower oil to help repair the hair shaft, protect colour, and leaves your hair glistening with health and vitality.
PARA-PHENYLENEDIAMINE (PPD) is responsible for most allergic reactions following the use of hair dyes.( source.SCCP )
hould you already be allergic to para-phenylendiamine (PPD), this can trigger a range of allergies from chemical to natural ingredients. Natur Vital has removed PPD from the Coloursafe range we have replaced this chemical with Toulene 2.5 Diamine sulphate a less aggressive ingredient (source:New Zealand Dermatological Society Incorporated ), our research has shown that 50% of people with a PPD allergy react to Coloursafe, the other 50% show no reaction and can safely use Coloursafe. The Coloursafe range is ideal for the person who wants a permanent hair colour with No Ammonia, No Resorcinols, No Parabens and No PPD. This makes Coloursafe one of the safest hair colours available.
People who have a prior allergy to PPD please be aware that you may react to other ingredients in the Coloursafe formula. A 48 hour patch test is essential.
At Natur Vital we realise we cannot have hair colours without including some chemicals , our aim is to replace or remove where possible the chemicals that cause most harm.
According to European studies PARA-PHENYLENEDIAMINE or PPD is responsible for the majority of the allergic reactions to permanent hair colour.PPD is found in 99% of permanent hair colours, this chemical is responsible for colour-fixing reaction.
Coloursafe is the only Permanent hair colour without AMMONIA, RESORCINOL, PARABENS or PARA-PHENYLENEDIAMINE (PPD) Coloursafe also includes Plant Keratin which helps rebuild the natural Keratin found in hair fibre and Sunflower Oil from certified Organic growers .
Natur Vital recommends you do a PATCH TEST 48 hours before applying any colour, details are contained on the instructions found in pack.
ADDITIONAL INFO
With No Ammonia,No Resorcinol,No Parabens.or PPD óóñ Less aggressive permanent hair colour
With Plant Keratin
Repairs and strengthens the natural Keratin found in Hair
Sunflower oil from organic growingHigh content of vitamin E to protect the colour of the hair, moisturizes and provide shine.
Sesame oil from organic growingÖÖÖ. ÖÖÖÖÖÖÖÖÖÖContains antioxidants that protect the hair
PROPERTIES
ñ It covers the grey hairs in 20 minutes.
ñ It changes the hair colour in darker tones
ñ It revives the colour of the hair
ñ It is a long-life permanent colour, will not wash out
CHARACTERISTICS
Natur Vital has created a permanent colour avoiding the use of the principal ingredients that cause allergies .
We have removed the para-phenylenedimine (PPD). It has been substituted with Toluene 2,5- Diamine Sulfate, so you will get the same results when colouring the hair. We have also removed Resorcinol, which is commonly used in permanent hair colours and can cause allergies.
One of the advantages of a permanent colour without Ammonia is that the product is softer and less aggressive.
We recommend you do a 48 hr patch test before using any permanent hair colour
Follow the instructions included in the packaging.
SPECIAL CASES
In pregnant women or people with serious illness, we recommend you consult your doctor before using any permanent colour.
Click here to order our PPD FREE PERMANENT HAIR COLOUR RANGE!